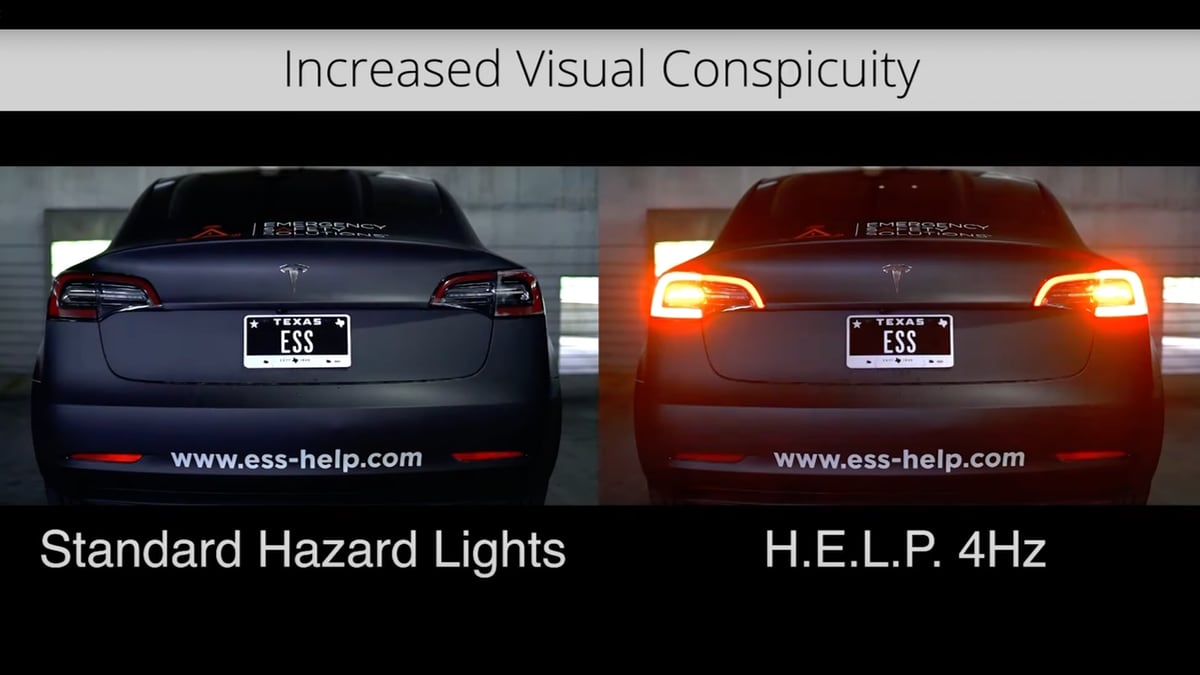 Tesla to implement new hazard warning system via software update
A four-year-old small business in Houston, Texas uses a Tesla Model 3 to demonstrate its revolutionary hazard warning system. Now their system will be in millions of Teslas.
Emergency Safety Solutions, Inc. (ESS) is the creator of HELP, which stands for Hazard Enhanced Location Protocol. The company says its system significantly improves driver safety. Tesla, which typically develops its systems and rarely uses external programs, will be the first automaker to implement HELP in its vehicles.
ESS says that every seven minutes there is an accident involving a disabled vehicle on American roads. These accidents kill or injure 15,000 people each year. The company also says the main contributor to these crashes is an ineffective hazard warning system that fails to attract drivers' attention. The hazard warning system was created more than 70 years ago and has not been improved since.
According to ESS, HELP: "will provide advanced lighting alerts and location-based digital alerts to significantly improve advance warning communications to drivers." The Virginia Tech Transportation Institute studied several lighting combinations and found that flash frequencies of 4 Hz to 6 Hz significantly improved driver attention. The current system is 1.5 Hz.
The researchers then took the 5Hz system to the street and found that drivers responded 12 seconds earlier. They also found that the drivers drove more than 360 meters or almost four football fields away from the broken down car. Additionally, drivers moving to the left of a stalled car increased from 30% with the current system to 87% with HELP.
Flashing lights will no doubt improve safety, but the system also sends a digital signal to alert drivers using in-car or phone navigation that there is danger ahead. Early warning will allow drivers to be warned much earlier than the simple visual flashing light system. Additionally, the HELP system can be activated manually or will activate automatically if a collision is detected or an airbag is deployed.
Tom Metzger, CEO of ESS, said, "Tesla is a leader in bringing never-before-seen innovation to passenger vehicles and is leading the way in implementing HELP technology on potentially millions of Tesla vehicles worldwide. world. This is a monumental step in the effort to overcome the troubling safety issue of collisions with disabled and vulnerable vehicles, which tragically injure or kill tens of thousands of people around the world every year. »
New pattern of hazard lights on a model 3
Tesla will implement these changes to these existing vehicles via a software update. This is a rare step for Tesla, which usually creates its own systems and improves on traditional programs (Tesla recently improved the seat belt).
This time, Tesla found a company that did everything necessary to improve this aspect of vehicle safety, so why recreate the wheel?
By Gabe Rodriguez Morrison
Tesla is expected to begin production of the Cybertruck in Giga Texas in mid-2023, a timeline that was reaffirmed during Tesla's third-quarter earnings call.
After initially unveiling the electric pickup truck in 2019, Tesla repeatedly delayed production due to supply chain issues, among other economic issues.
While the Cybertruck is going to be built in Giga Texas, Tesla plans to start manufacturing battery packs for the next truck at its Fremont facility, which is already operational. It was previously expected that the batteries would be made in Giga Texas, the same factory where the Cybertruck will be assembled. However, battery cell and cell pack manufacturing is not yet ready to begin mass production at its new Gigafactory in Austin, Texas.
Earlier this year, Tesla requested the construction of a battery and cathode manufacturing facility at Gigafactory Texas. Construction has begun, but it likely won't be ready in time for the Cybertruck's scheduled launch in mid-2023.
Tesla is set to use IDRA's new Giga press with a clamping force of 9,000 tons to produce the Cybertruck. The new Giga press is made up of 54 parts, weighing approximately 170,995 pounds. The Giga press arrived in Houston, TX last week and is expected to reach the Gigafactory in Austin, TX soon.
IDRA Group is one of Tesla's main suppliers, supplying the automaker with giant manufacturing machines. The 6,000 ton Giga press they built gives Tesla the ability to manufacture one-piece ends for the Model Y. Giga Texas will soon receive a 9,000 ton Giga press to manufacture the Cybertruck.
The third quarter earnings release revealed that the Cybertruck is now in the "Tooling" production phase. The tooling phase is where Tesla begins setting up the machinery and production line before a vehicle goes into full production. Although production hasn't fully launched, it's a good sign that Tesla is on track to begin production in mid-2023.
By Gabe Rodriguez Morrison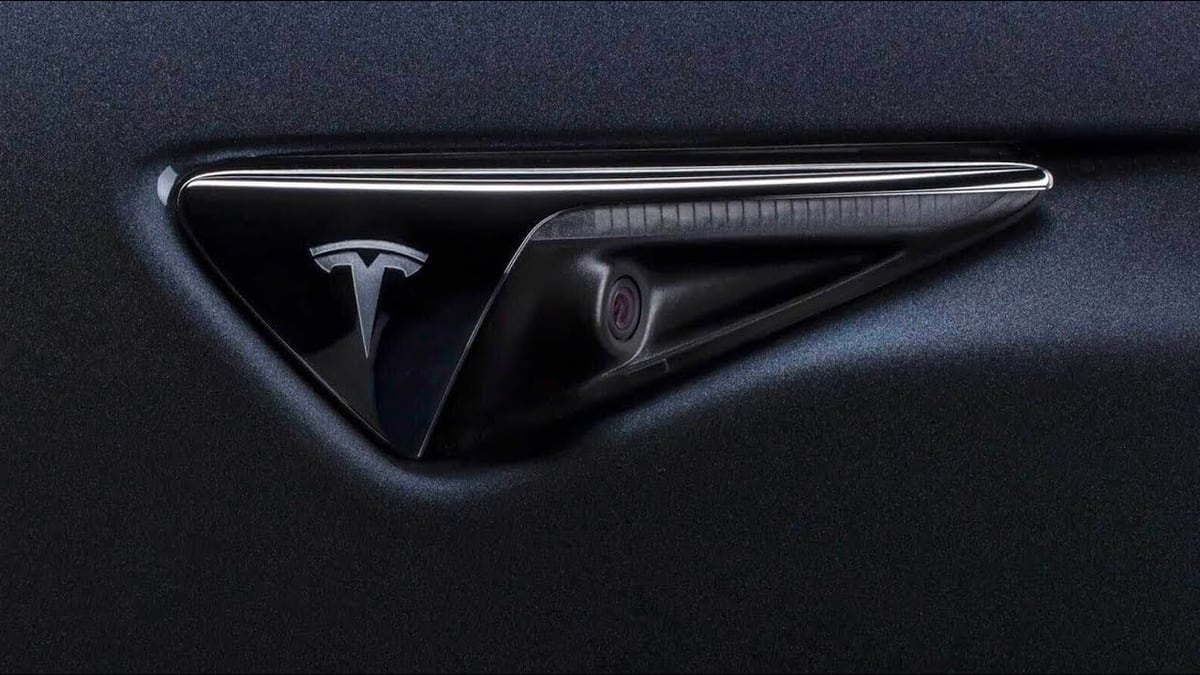 Few details have been revealed about Tesla's next-generation FSD hardware, but news out of China suggests the new hardware will use vastly improved cameras.
One of Tesla's suppliers appears to have produced and shipped new 5-megapixel cameras and sensors to Tesla. These new cameras will likely be used for HW4 as current hardware probably can't keep up with 8.5 megapixel cameras.
Currently, Tesla uses cameras with 1.2 megapixel resolution, so this would be a major upgrade to current hardware.
The news comes from one of Tesla's Chinese suppliers, Lianchuang Electronics. @ChrisZheng001who shared the news on Twitter, asked Elon Musk to confirm the details, but Musk did not respond.
Latest news, Tesla's Tier 2 supplier Lianchuang Electronics said on the China Investor Platform that mass production and delivery of the HW4.0 platform camera has begun. @Elon Musk Can you confirm it? pic.twitter.com/NJHOZW4e6t

— Chris Zheng (@ChrisZheng001) October 20, 2022
The new camera details emerged when the vendor was asked if it would supply its 5-megapixel cameras to Tesla.
Translated from Chinese, the question reads: Tesla recently officially announced that from October, North America, Europe, Japan, South Korea, Australia and other markets , except mainland China, would fully implement the pure vision solution and officially upgrade to HW4.0 system, and replace the original cameras with 5MP HD cameras. As a supplier of Tesla's cameras, will the company supply these 5MPs to Tesla's supplier, Samsung, on a large scale?
A company official replied, "The company's camera business is enjoying good momentum, and HW4.0 cameras have started mass production and shipment." (translated from Chinese)
At Tesla's first AI Day, Elon revealed Tesla's plans for FSD hardware. He announced that Tesla was researching the next major hardware revision for full self-driving, HW4, which he said would be released with the introduction of the Cybertruck.
At the time, Elon also said that Tesla was considering new cameras, which matches recent statements from Tesla's camera supplier in China.
Musk wouldn't comment on HW4 on Day 2 of AI, but it's possible the revised standalone computer is coming soon. As Elon mentioned on Day One of AI, the release of HW4 could be coupled with the release of the Cybertruck, which is expected to begin production in mid-2023.
Recently, the Cybertruck was spotted with what appeared to be cameras attached to the exterior of the vehicle, which could mean Tesla was testing new camera locations.