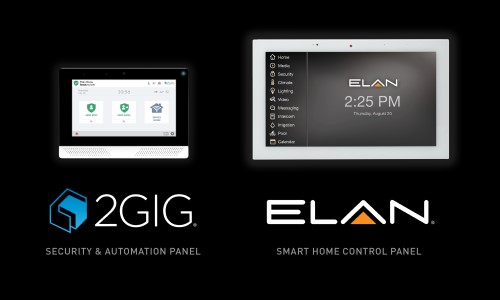 Nice/Nortek 8.7 Control Issues Elan Software Update
The 8.7 Elan software update includes new direct control functionality, Bluetooth reader capability, first-ever integration with the 2GIG EDGE security panel and more.
CARLSBAD, Calif. — Nice/Nortek Control announces the release of its Elan 8.7 software update, driving the latest control technology and broader integration for convenience and customization.
Topping the list of many major new features and enhancements, the new direct control functionality, Bluetooth reader capability, an all-new utility product integration sub-category, and the first-ever integration with the 2GIG EDGE Security Panel make this important update for integrators and end users. users of ELAN products, according to the company.
With these new features and many more, integrators can provide their customers with an even more attractive and intuitive all-in-one solution with simplified integration for security, control, entertainment and convenience.
Software 8.7 adds complete control over important aspects of today's lifestyle, such as home security, well-being, and home health components (i.e. detection water leaks) without additional equipment.
"Today we are sharing the extraordinary enhancements to our legendary ELAN control system, further reinforcing our commitment to delivering a modern smart home platform that offers homeowners the most control and convenience," said Richard Pugnier , vice president of marketing and education at Nice/Nortek Control. .
"Our 8.7 software significantly expands the powerful capabilities of the ELAN system, making smart home integration even easier while meeting the ever-changing interests of today's homeowners. From our seamless, streaming music connection between smartphones and ELAN touchscreens, to premium security integration, to home health monitoring – this software upgrade emphasizes power and value. of an ELAN control system and offers integrators new opportunities for success.
The new direct control feature allows ELAN remote controls to communicate natively with an ELAN controller, rather than using home WiFi, for instant connections even in environments where home networks can be challenging.
The new Bluetooth player instantly turns every ELAN touchscreen into a Bluetooth receiver, eliminating the need for any external receiver. Anyone in the house, whether family members or guests, can connect their smartphone via an ELAN touchscreen to play their own music through the entire home audio system.
This 8.7 Elan software update is also supposed to deliver new, expanded integration with popular wellbeing and home security products for a total control solution that's easier to design, install and enjoy.
For example, a new subcategory for popular utility products, such as power management and climate control, air quality, and leak detection, has been added to bring more visibility to wellness. of the house for the owners. Additionally, setting the standard for security and control from a single platform, Software 8.7 is the first to offer seamless integration with the 2GIG EDGE Security Panel.