Make your PC kid-friendly with four custom operating systems
Teaching little kids to use computers is a great idea, but the thought of exposing innocent minds to the drek that hovers over the internet is enough to make a sane parent consider moving to Amish country.
I'm a new parent myself, and as a lifelong tech enthusiast, I'm struggling to figure out the best way to teach PCs to my kids. Letting a child run amok on a computer with an online connection is a recipe for disaster – there's just too much inappropriate content and too many ways to access it, even accidentally.
Sure, you can spend a few hours setting up Windows parental controls, blocking certain content, and installing software to monitor what your kids are doing online. But not only is it a lot of work, it's beyond the technical capabilities of many PC owners.
Fortunately, the solution exists, although it is where you least expect it: the world of Linux. The good people in the open source Linux community have created specialized operating systems and environments that make it easy to set up a kid-friendly PC.
For the purposes of this guide, we will be going through Qimo, Edubuntu, DoudouLinux, and KIDO'Z. All of these operating systems restrict access to your PC, so it's easier to keep tabs on what the kids are up to. Of course, none of these tools are an adequate substitute for real hands-on parenting with tech-savvy tykes, but they're far more powerful, user-friendly, and educational than Windows' built-in parental controls.
Qimo for children
If you are setting up a PC for very young children, then Qimo is the operating system you want to use. Qimo is a free, kid-friendly operating system based on the popular Ubuntu Linux distribution, with a custom interface designed for very young users. Qimo also comes with a bunch of educational and kid-friendly apps pre-installed and offers built-in content filtering controls to ensure young users are less likely to encounter unsavory content when gaming on the PC or browsing. the Web.
It is a relatively lightweight operating system that only requires 256MB of RAM, 6GB of storage space, and a 400MHz processor to run. Qimo is available as a free download from the Qimo4Kids website, and you can install it on your PC as your main operating system, install it with Windows, or just run it directly from a Live CD or a bootable flash drive.
To do this, you first need to download an ISO file from the website and either burn it to a CD or extract it to a bootable external drive. When done, simply boot to the disk (or external drive) and follow the on-screen instructions to install or run the operating system. Keep in mind that if you install the operating system on a system, it will erase any operating system already present on the machine. If you don't have a spare CD on hand, you can purchase a custom install disc from Qimo for a nominal fee, which covers the cost of printing the disc and shipping it.
Ubuntu
Like Qimo, Edubuntu is another free operating system based on the popular Ubuntu Linux. Unlike Qimo, Edubuntu eschews a child-friendly custom interface in favor of Unity Shell, which is Ubuntu's default user interface.
This makes Edubuntu a great choice for teaching Linux to older children, but the learning curve is definitely steeper. Edubuntu comes with a myriad of educational software suites pre-installed, such as KDE Education Suite, GCompris, and Tux4kids, but there are no custom content controls or other parenting tools built into the operating system. It's basically a simple Ubuntu Linux distribution with built-in educational software.
Although Edubuntu can be configured to run on thin client computer terminals like those you find in libraries and classrooms, the operating system can also be installed on your home PC or run from a LiveCD. At one point, there was even a live demo available on the Edubuntu website that would let you experience the operating system first hand. Unfortunately, it was removed by press time due to budget constraints.
The process of installing and running Edubuntu is the same as that of Qimo. Download the ISO file from their website, burn it to a disc or extract it to a bootable external drive, then plug it into your PC and boot to the disc or drive. Edubuntu has pretty lenient PC requirements: you only need 512MB of RAM, a 1GHz processor, and a 20GB (or larger) drive.
DoudouLinux
If Qimo and Edubuntu seem a bit too fast for your taste, check out DoudouLinux, another free Linux-based operating system designed with very young children in mind.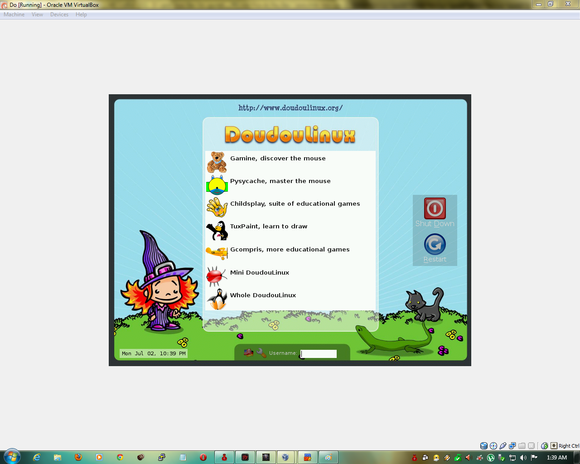 DoudouLinux offers a personalized user interface designed specifically for much younger children (aged 2 to 12) operating without parental supervision. The operating system is available in almost every language and offers a comprehensive set of operating system-level parental controls and content filtering options in addition to a wide range of pre-installed educational apps.
The process of installing and running DoudouLinux on your PC is basically the same as Qimo or Edubuntu, although it only requires 256 MB of RAM and an 800 MHz processor.
KIDO'Z Environment
If you don't want to bother with alternative operating systems and just prefer to install a child-safe environment on your current PC, KIDO'Z is exactly what the doctor ordered. KIDO'Z is a subscription-based app with a free trial currently available for Windows, Android, Mac OS, or Chrome OS. It creates a kid-friendly interface that provides easy access to safe content.
KIDO'Z has an integrated browser with an ad blocker and real-time content filtering. The browser also has large buttons and direct links to a host of popular kids' websites, making everything easy to access even for young children. The KIDO'Z environment also has a full set of parental controls and an app blocker that allows you to prevent unauthorized programs from running on the device.
However, there is a catch when using KIDO'Z: the mobile version is free, but the PC version requires a subscription to activate all features. A 7-day free trial is available, but to unlock parental controls and activate all features, you must purchase a $4.99 (monthly), $39.99 (annual), or $59.99 (lifetime) subscription. ).
Simply buy, build or recycle your own kid-friendly PC
If there's one thing that most operating systems or kid-friendly environments have in common, it's that they usually have minimal hardware requirements. This makes repurposed laptops and netbooks, as well as old retired PCs, perfect vessels for resurrection as kid-friendly PCs. Of the products we've discussed here, Edubuntu has the most "demanding" requirements, and even then it only requires a 1GHz processor, 512MB of memory, and 20GB of disk space.
Using retired desktops or laptops is a great way to set up a kid-friendly PC, especially if you're worried about very young children wrecking the system. If you'd rather buy or build a new kid-only PC, there's really no need to waste your money on expensive components. A basic PC built around an AMD A-Series APU or an Intel Core-series processor with integrated graphics should be very powerful and can only be had for a few hundred dollars. For an example of what to buy, check out our guide to building a fast Windows 8 PC for under $500 and just avoid the Windows 8 shell outlay.
Of course, if you only have one PC that everyone has to share and you can't afford to bring another PC around the house, create a virtual machine with a kid-friendly operating system. or using a Live CD is also a great free option. Qimo's website even offers a preconfigured virtual disk image (VDI) that can be used with VirtualBox or other virtualization software. Whichever way you choose to go about it, setting up a kid-friendly PC is an easy and inexpensive way to share your love of technology with the next generation.