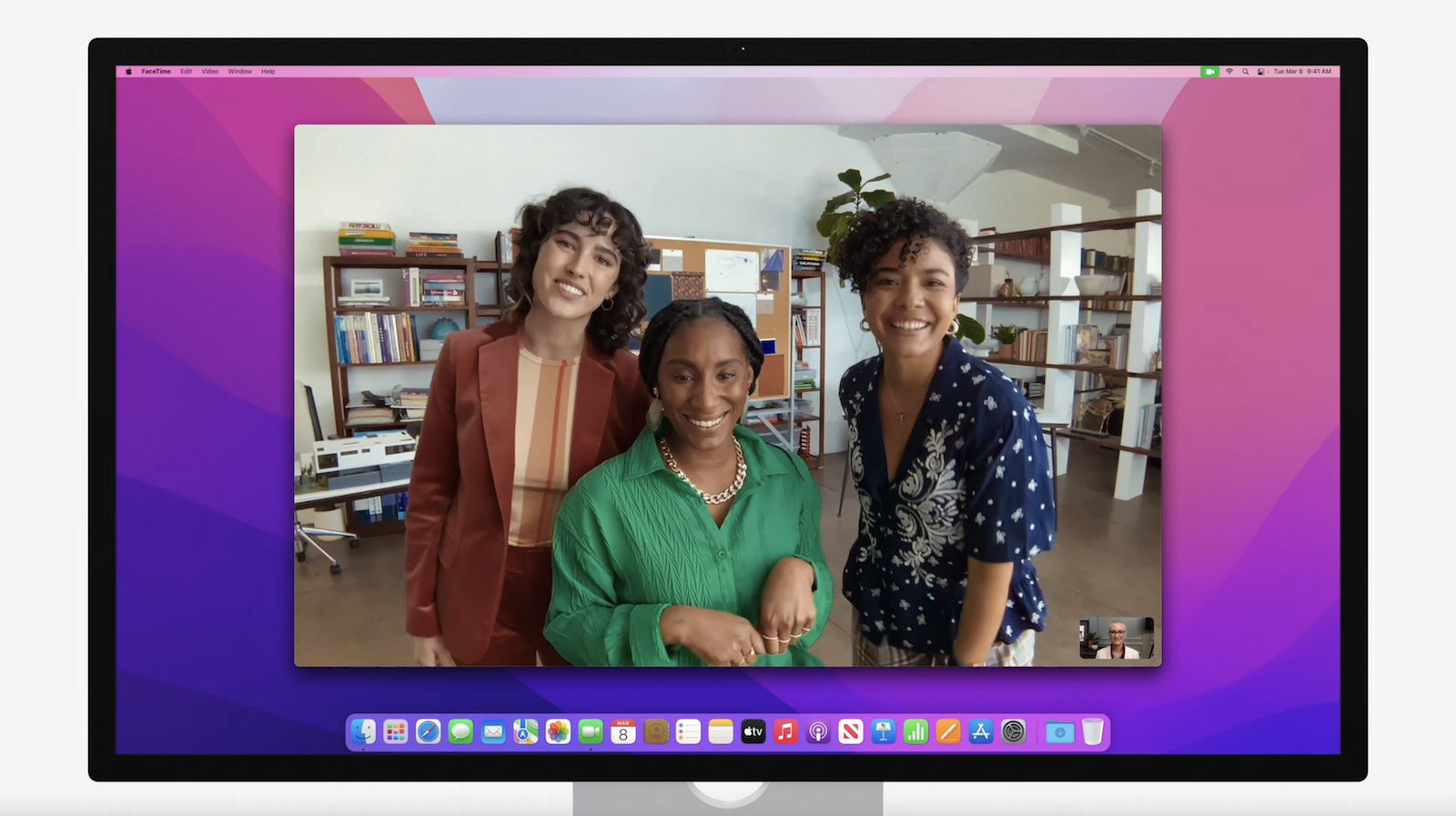 Apple announces Studio Display webcam improvements coming in software update after several bad reviews
Early reviews surfaced for Apple's new Studio Display, and a common thread among reviewers was that the built-in webcam's image quality ranged from "old BlackBerry" to downright "awful" in their hands-on tests. .
The Studio Display has an ultra-wide 12-megapixel front camera that can be used for FaceTime and Zoom calls. Although the camera is a welcome addition over the webcam-less Pro Display XDR, reviewers criticized the image quality.
The Wall Street Journalby Joanna Stern:
You can see why I planned the Studio Display's webcam to be the GOAT (Greatest of All Time). With a 12-megapixel camera and the A13 Bionic chip, it should be on par with the front camera of an iPhone 11 Pro.

Yet Apple's camera consistently produced grainy, washed-out images. There were so many missing details in some shots that it reminded me of the camera on my old BlackBerry. On the positive side: no one could see my frizzy hair.
The edgeby Nilay Patel:
The bad part is that I have no idea what's going on with this webcam. Apple has a long history of producing amazing images with 12-megapixel sensors and A-series chips, and for some reason this thing looks horrible.

In fact, it looks awful in good light and downright miserable in low light. I tried it connected to the Mac Studio and on my MacBook Pro running macOS 12.3, and on both machines it produced a grainy, noisy image with hardly any detail. I've tried it in FaceTime, in Zoom, in Photo Booth, in QuickTime – you name it, it's the same sad picture quality. Turning off the Center Stage feature that follows you around the room doesn't help. Turning portrait mode on and off doesn't help.
In response to inquiries about webcam quality, an Apple spokesperson told both Stern and Patel that Apple "has discovered an issue where the system is not behaving as expected" and " will provide improvements in a software update". Apple hasn't specified what "improvements" will be made, and no timeline was provided for the update.
We've rounded up reviews of the Studio Display and the Mac Studio for those interested in a hands-on look at the two new products.
Related stories
Apple updates Boot Camp to support Studio Display
Apple this week released an update for Boot Camp, its solution for running Windows on Intel-based Macs, to support the all-new Studio Display. Boot Camp's 6.1.17 update, released earlier this week, adds Studio Display support and updates drivers for AMD and Intel GPUs. To update to the latest Boot Camp drivers, users need to go to the Windows Start menu…
Apple unveils $1,599 27-inch 5K external 'Studio Display' monitor
Apple today unveiled the 27-inch 5K "Studio Display" external monitor, alongside the new high-end Mac Studio desktop computer. The Studio Display features an all-screen design with narrow bezels in a slim, all-aluminum enclosure like the 24-inch iMac. The screen can be tiled up to 30 degrees with its built-in stand. To customize the display, customers can choose a more versatile model,…
Gurman: 'Mac Studio', Mac Mini/Mac Pro hybrid and new display with A-series chip are 'out of the box'
Apple may unveil a new "Mac Studio" machine and display that runs iOS at the March 8 event, according to a late-breaking confirmation from Bloomberg's Mark Gurman. In a tweet, Gurman says the Mac Studio and a "new monitor running iOS are 'ready to go' and will likely debut tomorrow. Earlier today, YouTuber Luke Miani shared renders of what he claims is the "MacStudio"…
Apple announces the powerful "Mac Studio" with the M1 Ultra chip and its companion "Studio Display"
Apple today announced at its "Peek Performance" event a new Mac Studio desktop computer with a companion Studio Display monitor. With a 3.7-inch-tall body, the Mac Studio looks like a larger Mac mini, but it's a lot more powerful. The computer can be configured with the same M1 Max chip found in the 14-inch and 16-inch MacBook Pros or the just-announced M1 Ultra chip, which features a…
iFixit demolishes Mac Studio and Studio Display
iFixit today disassembled Apple's new M1 Max Mac Studio, giving us our first look at the components inside the machine. It's not the traditional, more detailed teardown from iFixit, which has yet to be released, but it does provide some interesting details about the Mac Studio. "If Apple put a Mac Pro inside a Mac mini, you'd get something a lot like the new [Mac Studio]","…
Apple's new Studio Display includes a 1 meter Thunderbolt cable with a 3 meter option coming soon
Apple today introduced the Studio Display, a cheaper 27-inch alternative to its Pro Display XDR. The standalone monitor includes a 1-meter Thunderbolt cable in the box, and for customers looking for longer options, Apple has started selling a 1.8-meter Thunderbolt 4 Pro cable for $129 and is soon offering a three-meter option for $159. Apple claims the Thunderbolt 4 Pro cable supports…
PSA: Studio Display power cable is not removable
Apple's Studio Display has a non-removable power cable built into the back that even when tried to pull it forcefully won't come out, despite the Pro Display XDR having a power cable removable. British YouTuber Oliur demonstrated the unique quirkiness of Apple's $1,599 starting price display in his review of Apple's latest display. Apple's Studio display also offers…
Apple Studio Display is running the full version of iOS 15.4
The Apple Studio Display is running a full version of iOS 15.4, John Gruber of Daring Fireball pointed out. In System Information, under "Graphics/Displays", the Studio Display software can be seen, showing that it is running "Version 15.4 (Build 19E241)". This is the exact same build number as iOS 15.4 and iPadOS 15.4, indicating that the Studio Display is running the full version of iOS. The studio…
popular stories
Samsung's new 32-inch 'M8' display vs Apple's Studio Display
Samsung recently introduced the M8, a new 32-inch 4K display priced at $700, making it half the price of Apple's Studio Display. We picked one of the screens and thought we'd compare it to the Studio screen in our latest YouTube video to see how it performs and if you can save some money by going for a cheaper option. Subscribe to MacRumors YouTube…
Apple abandons macOS Server
Apple today announced in a support document that macOS Server will be discontinued beginning April 21, 2022. Apple has been phasing out macOS Server for several years now, and the company is finally ready to shut it down permanently. macOS Server 5.12.2 will be the last version of the app, and macOS Server services have now been migrated to macOS. Popular macOS Server features that include…
EU one step closer to requiring Apple to switch iPhone, iPad and AirPods to USB-C
This week, members of the European Parliament voted overwhelmingly in favor of legislation that will force Apple to offer a USB-C port on all iPhones, iPads and AirPods in Europe. The proposal, known as the directive, will require all consumer electronics manufacturers selling devices in Europe to guarantee that all new phones, tablets, laptops, digital cameras, headphones, headsets, handhelds. ..
Kuo: iPhone 14 models are likely to feature an improved front camera with autofocus
The four iPhone 14 models slated for launch later this year will likely feature an improved front camera with autofocus and a wider ƒ/1.9 aperture, said well-known Apple analyst Ming- Chi Kuo in a tweet today. The wider aperture would allow more light to pass through the lens and reach the front camera sensor on the iPhone 14 models. ..
The iPhone 14 Pro is rumored to feature a more rounded design to match a larger rear camera array
The iPhone 14 Pro could feature significantly more rounded corners to match the larger rear camera array, according to Apple concept graphics renderer Ian Zelbo. Zelbo, who is best known for creating renders of upcoming Apple devices based on leaked information, including the Mac Studio, Studio Display, rumored mixed reality headset, and more, believes the iPhone 14 models Pro are likely to…
Transcend announces 1TB JetDrive Lite 330 expansion card for 14- and 16-inch MacBook Pros
Transcend has announced a 1TB version of its JetDrive Lite 330 expansion cards for 14-inch and 16-inch MacBook Pro models, giving users of Apple's latest Macs an affordable way to expand internal storage capacity. Transcend says the JetDrive Lite 330 cards are designed with high-quality NAND flash memory, delivering read and write speeds of up to 95MB/s and 75MB/s, respectively. Once the…
New Apple Cash accounts are now Visa branded
The Apple Cash virtual debit card appears to be changing networks from Discover to Visa, as revealed in some updated images on Apple's website noted by Twitter user @Kanjo. Since its launch, Apple Cash (originally known as Apple Pay Cash) has been operated through a partnership with Green Dot Bank on the Discover network. Discover is one of the smaller card networks and is accepted in…
MagSafe battery is now able to charge at a faster rate of 7.5W after firmware update
Apple released a firmware update designed for the MagSafe battery yesterday, and it turns out the new firmware enables 7.5W charging on the go, up from the previous 5W limit. support, Apple says MagSafe battery owners can update their firmware to the new version 2.7.b.0 to get the faster 7.5W charging capabilities. Updating the MagSafe battery can. ..